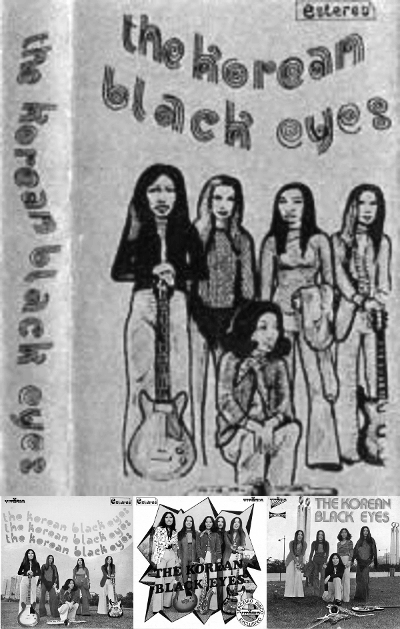 The Drake equation is a complicated and speculative piece of mathematical fiddling that uses galactic probability to find how many alien civilizations are in the Milky Way. A similar equation might be needed to explain the highly improbable, shoot-the-moon-serendipity which produced The Korean Black Eyes: a killer early 70's all-girl garage soul, rock and roll Cryptozoological fable now proven by Plus Tapes' bubblegum-pink reissue.

The Black Eyes really cook- covering Sly Stone, a little Elvis, and weirdly, The Moody Blues and a selection from "Jesus Christ Superstar." They also are perplexing. How popular were they? Was there a soul/funk scene in 1970's Korea, or were they going it alone? Does the singer know English or is she belting it out phonetic-style? (I've listened to this tape dozens of times and still can't make up my mind. One song has a typical R&B monologue that's nearly impossible to understand.) What became of them and how were these songs located 30+ years after the fact? Who knows?

But the music tells me I'm asking too many questions. The band is decent but clearly not session vets. You can hear the frequent temporal arrhythmia and the bass plodding to the root belatedly. The guitars are decent; the organ, barely audible. What they do have is undeniable energy and heart backing a fantastic lead vocalist who sings the daughter James Brown and Janis Joplin never had- a daughter who grew up in Soul, or in this case Seoul, South Korea. Her vocals are great: passionate, enticing, raw, and filled with arc-welding screams. And the accent is awesome-the keystone to the whole tape, a shining example of the inadvertent innovations found in cultural discourse.
-[
foxy digitalis
]
an absolutely amazing cassette from 2009 on [
plus tapes
] compiling all three singles by this mystery band. released in an edition of 100, this thing sold out almost immediately, basically the micro-press cassette world equiv of going platinum.
thanks to [
dustin drase
] for the brilliant sleeve scans.
[
the korean black eyes
]