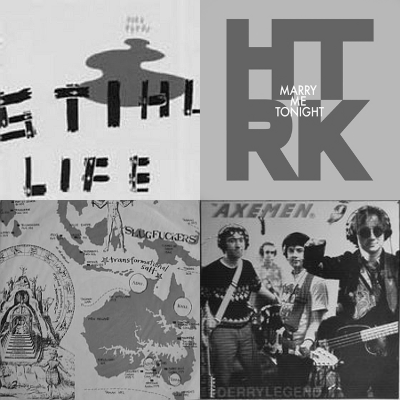 this multi-album post is especially for mark the dj at [
tube
]!
one big file, four aussie/new zealand bands...
[bird blobs- stihl life lp 2003]
their first lp... primordial beefheart/birthday party-styled sludge from melbourne. half the band now resides in nyc... singer tim is now in degreaser (amongst many other things).
[axemen- derry legend lp 1987]
second full length on flying nun, from these kiwi legends, but the fine purveyors of scuzz over at [
siltbreeze
] are doing a bang-up job of re-ishing their past catalogue.
[htrk- nostalgia ep 2007 & marry me tonight lp 2009]
sub-swans-like dirging with a cold-hearted sounding lass moaning about soiled panties and ex-gfs... and the latest alb is produced by none other than rowland s. howard?!? misanthropy divine? you had me at "hello".
four different myspace pages for the now london-based oz transplants, here's the [
main one
].
[slugfuckers- transformational salt lp 1981]
first full-length of slimy post-punk ooze and scrape from these sydney noise merchants... the full deal's available on the [
cacophony 1979-1981
] double cd.
that's it... five albs, one click. you're welcome.
[
avancez
]